Banners and Car Stickers
Please help to promote the campaign by displaying your support. This is how everyone can "do their bit".
Banners and car stickers are available to buy, which you can order from us, or possibly purchase from the Sun Inn. By doing so you will help cover costs we are incurring for having theses made and for further leaflets and flyers we are having printed.
A couple of local businesses are producing these at cost for us, for which we are very grateful.
For banners we would need payment on order. For car/window stickers, just pay whoever you get them from.
We are donating 25% of any money made from these sales to charities, via the Yorkshire Beardsmen.
For banners, please reply via our campaign contact form, or on our Flockton Bypass facebook page, with size required. Once we have several orders in and collected the money (receipts will be issued), we will get them to you as soon as we can.
For stickers, we will update times and places for obtaining them, on our facebook page (and possibly, on our twitter and/or this website page). Some of the smaller items may be available from the Sun Inn or the Club (old Post Office).
Please help us with this. Remember, we are doing this for everyone who wants this bypass. And this will show the authorities we mean business.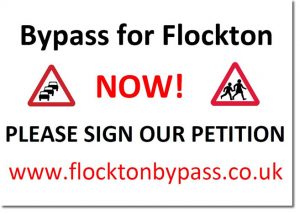 Banners
1500 x 700mm – £17.50 (Large)
1200 x 500mm – £12.50 (Medium)
1000 x 400mm – £10.00 (Small)
.