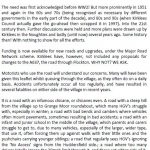 Download a copy of our leaflet to share with others
---
Other documents online
Traffic Regulation Orders (TROs)
Kirklees Council Committee details
Kirklees Council Chief Executive, strategic directors and service directors
---
Kirklees Council's Petitions Scheme (View or download the full document)
Full Council Debates (Page 5)
If a petition contains more than 3000 signatures it will be debated by Full Council unless it is a petition asking for a senior Council officer to give evidence at a public meeting, or is resolved before the meeting to the Petition Organisers satisfaction.
… and for the petition:
A minimum of 3000 separate, valid signatures are required for Full Council.
---
Letter to Jesse Norman MP from Paula Sherriff 23 January 2018 (click on letter to enlarge)
---
Flockton Bypass – Commons Transcripts, from the 1970s.
TRANSPORT (FLOCKTON BY-PASS)
HC Deb 17 February 1970 vol 796 cc370-8 (External website)
TRANSPORT (FLOCKTON BYPASS)
HC Deb 25 April 1972 vol 835 cc1505-12 (External website)
---
Strategic Road Network (SRN) Document – August 2015 House of Commons