Put your questions, concerning the issues relating to the A637 road through Flockton, to some of our local leaders at a live Question Time style event at Dewsbury Town Hall on Monday 16 July 2018 as part of National Democracy Week.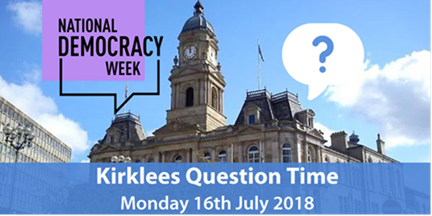 The panel of party leaders will include:
Councillor Shabir Pandor, Labour Group Leader
Councillor David Hall, Conservative Group Leader
Councillor John Lawson, Liberal Democrat Group Leader
Councillor Andrew Cooper, Green Party Group Leader
Come along and ask your questions about the things that matter to you and your community.
How to take part
You can book your free place and submit your question online here.
The Kirklees Leaders Question Time is in Dewsbury Town Hall from 7 pm to 8:30 pm (arrival from 6:15 pm) on Monday 16 July 2018.
The event will also be webcast live and citizens can join in via twitter using #KirkleesQT
The event is organised by Kirklees Council.
Full event info – Kirklees Leaders Question Time.
---