Update posted by Cllr Richard Smith 10 July 2019
Information regarding Pinfold Lane, Flockon. Please see text of letter from Kirklees for information:
We would like to inform you that there are some drainage works due to commence on Pinfold Lane. This work is being carried out to upgrade the culvert/ drainage system. The work will commence on Monday 15th July 2019 and is likely to last for approximately 3 weeks (weather permitting). The works will be undertaken during the day using 2 way traffic lights. Access will still be available for residents, however there will be times when we will need your cooperation to move any vehicles belonging to yourself or people visiting you. It is inevitable that the works will cause a degree of inconvenience and we will do what we can to keep this to a minimum.If you have any questions about the work, please contact Callum Mapplebeck or Danny Ryan on: 01484 221000 or email: . If you need to contact us outside office hours, please ring Highways Customer Care on freephone: 0800 731 8765.
Revision note, 11 September 2019 – The email in this post is no longer recognised, but you may be able to find a suitable contact from this page: https://www.kirklees.gov.uk/beta/report-a-problem.aspx
---
26 June 2019
We are due to start some work, on an existing culvert on Pinfold Lane, in the next two to three weeks. We will send a letter out to  any residents directly affected by the proposed works nearer the start date.
The map below, shows roughly the length of culvert that we shall be working on (red line). The existing culvert has been constructed as part of the dry stone wall, as such, rather than excavate the culvert, we will be laying a new pipe along the verge edge of carriageway, diverting the culvert into this pipe.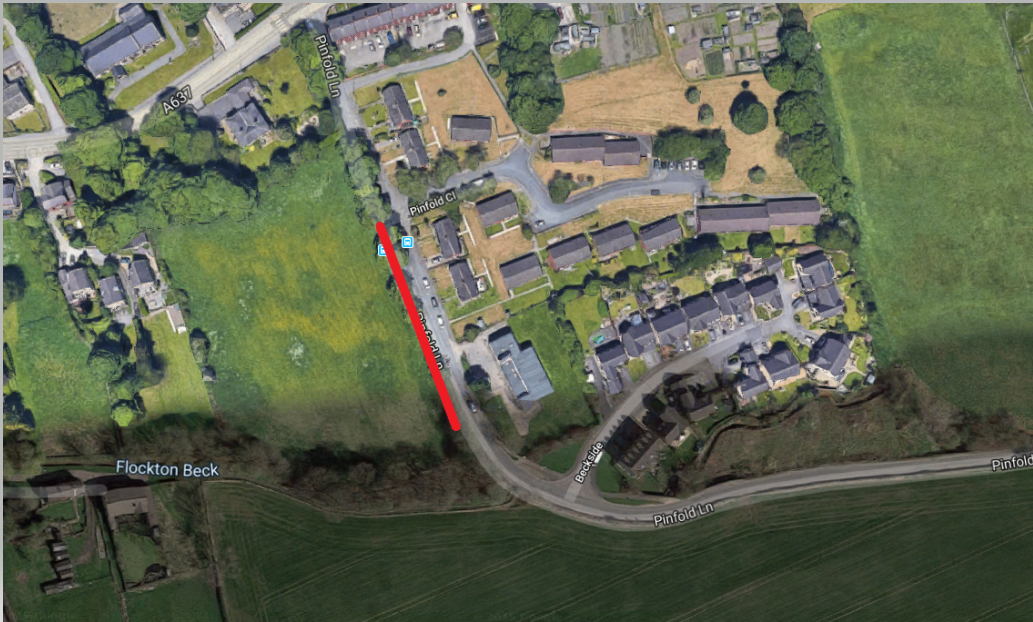 The works shall be carried out on two way traffic control.
Darren Pickering
Group Engineer
Economy & Infrastructure, Commercial, Regulatory & Operational Services
Highways Operations
---