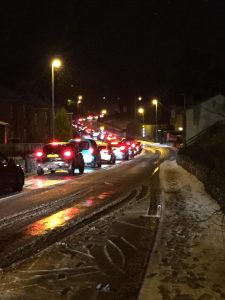 Flockton village required at least 3,000 signatures before our bypass request could be debated by Kirklees Council.  As of 4 February 2019, we had 5,121 signatures, (online and on paper) ready to present to the Council. This was later revised down, after thorough checking, to 4,007 signatures – still above the number required to trigger a debate in the Kirklees Council Chamber. Thank you to everyone who helped us reach, and surpass, our original target.
You can continue to offer support by displaying one of our posters, car stickers, or banners. This campaign is on-going and regular discussion takes place in our facebook group.
(Click on link above and scroll to bottom of page for the Poll)
---
Flockton is a small village in Kirklees, West Yorkshire, England, UK, halfway between Huddersfield and Wakefield. It is in the parish of Kirkburton and whilst it is in Kirklees, it has a Wakefield postcode. It has also seen a massive increase in heavy traffic over the past 10 years. (Download our explanation leaflet). See what else you can do to help us, here.

Flockton needs a bypass
Flockton's location, relative to major transport routes:
*Flockton Bypass does not currently have a formal online donations system, but we would be most grateful if you could contact us at if you would like to arrange to help financially with any amount, small or large.
*Although we have reached, and far surpassed, our petition target, we have encountered some problems presenting it, which we hope to overcome shortly. In the meantime, please keep spreading the word. We did, however, manage to get one question replied to at a full meeting of Kirklees cabinet, recently, as reported in the Examiner – others were not asked due to time running out. We intend to ask many more questions. Meanwhile, please keep signing our petition, to give us more leverage – both locally and nationally. The more supporting this, the better. More will be announced as and when we are able. Thank you all for the support shown to date.

.