A bit of historical background
Originally conceived in the 1950s as a local bypass, the Flockton Link developed into a much more important "cut of the corner" motorway between the M1 at junction 39 and M62 at junction 25 in the 1970s, to be shelved because of the then planned M67, to be later dragged from the ashes in 1989 as a dual carriageway only to be shelved again in 1997, only to be suggested again in 2008.
October 1951: Kirkburton Council's Highways Committee urged the "speedy construction" of a bypass road around Flockton by the West Riding County Council.
June 1968: Clr Arthur Manby, of Kirkburton Council, said lorries were making Flockton a "village of terror". About the same time the West Riding council revealed that a relief road around the village would cost £1m.
February 1970: Villagers form the Flockton Action Committee to push for a bypass.
April 1970: Huddersfield East MP J P W Mallalieu spoke of his "delight" after the Transport Ministry gives the relief road the go-ahead.
March 1977: The Government confirmed that public spending restrictions meant the bypass would not be built for at least five years.
October 1992: Kirklees Council named the bypass as one of 11 major highways schemes to be carried out by 2005.
June 1997: Kirklees dropped the idea of a bypass, having been unable to secure Government money.
(Source: Sabre Roads website)
A composite of press cuttings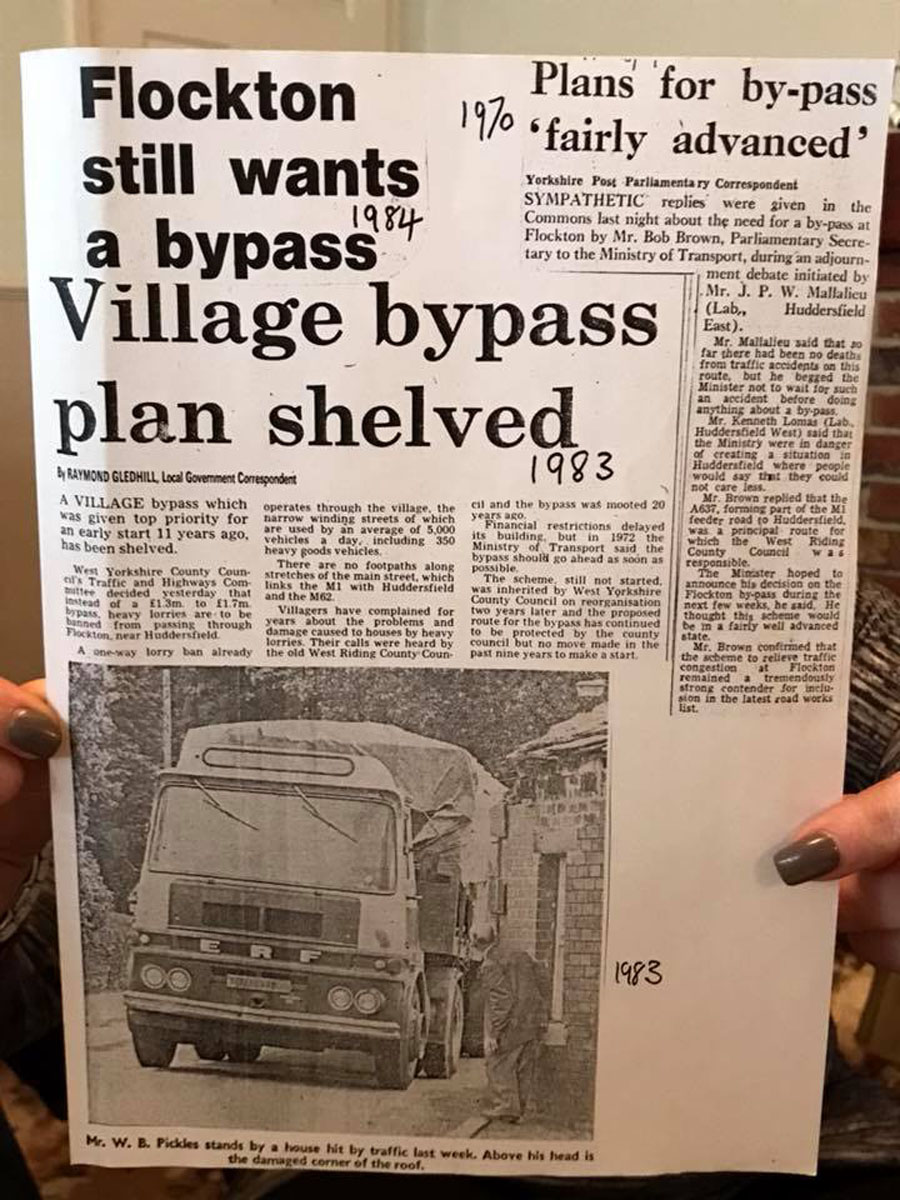 ---
Other Information
Flockton Link – cutting off Yorkshire's corner and a half – Pathetic motorways
Sixty years and waiting – still no £12m bypass for Flockton – The Huddersfield  Daily Examiner
Flockton bypass plans a no-go? – Wakefield Express (January 2012)
Most recent – February 2018 – Case for Flockton bypass taken to Transport Minister – The Huddersfield Daily Examiner
Department for Transport – Proposals for the creation of a Major Road Network
West Yorkshire Combined Authority – West Yorkshire 'Plus' Transport Fund