Flockton is currently enduring a number of housing developments taking place, the largest of which is in the centre of the village. Concerns have been raised on a number of issues:
Access and egress of the building site
Proximity to the school and its pedestrian routes
Mud on the main road and pavements – dust kicked up by passing traffic, into eyes
Increased vehicular traffic to and from the new estates, after completion
Congestion around the new entrances to the estates, once populated
As of 17 December 2018, we understand that Kirklees has granted permission for 4 houses at Lane End farm; 87 at Wilson site; 46 at Persimmons site with 5 undecided; 23 at Manor house undecided; and 13 others around the village. 178 in total including the undecided ones.
Access the Green Belt Review and Kirklees Housing Plan here. (pdf) Accepted developments, from around page 30
---
14 November 2018 – a new sign up, yesterday. As had been noted previously, another 23 properties in Flockton. Currently showing as "undecided" on Kirklees Planning Applications, and "subject to planning" on Rouse's website.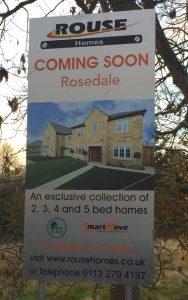 Richard Smith: "… I think this is relatively common when developers put up a sign advertising prior to approval being granted. […] It is unfortunate, as another development will not help the traffic situation, but as alluded to by a Kirklees Officer [in a conversation at an earlier meeting] I don't think traffic per se carries as much weight as it perhaps should when determining planning consent."