The Flockton village community has pulled together to take positive action
Led by a steering group, many villagers are contributing to getting the message across, not only to local Councils and the Government, but importantly, to all those who live in, or pass through the village, for whatever reason.
---
Bypass campaigners get their council debate
After a successful submission of their petition, on Wednesday 18 September 2019, Flockton Bypass campaigners got their 15 minutes full council debate in the Chamber.
---
Request to Flockton residents to take action
On 15 June 2019, members of the Bypass Group delivered A5 leaflets to residents, requesting that they take some action to help the campaign. See the leaflet here.
---
Suggestions that could help
If you have a good idea, that could help our on-going campaign, please send details to the relevant contact address (Steering Group or Items for Website).
Buy a Car Sticker or Banner
You can continue to support us by buying one of our car stickers, or a banner to display in your house window. (See below)
Write to Kirklees Council about any concerns you have about the road
You can find information here.
Petition
We have exceeded our petition target for signatures using both online and paper collection forms. The revised total is 4,007.
Meeting with Councillors to lobby Kirklees Council and Government
The steering group are working closely with local councillors from various political parties and hold regular monthly meetings, when as many as 3 councillors often attend to provide feedback and/or listen to the latest developments occurring within Flockton village.
Website & Social Media
We have this regularly updated website for public access, together with a facebook group, and a twitter account, dedicated to the campaign. You can see all of our social media links here.
Banners, Car Stickers, and Leaflets
Banners have been created, for strategic placement around the village, and leaflets are being handed to people in vehicles. You can download a leaflet here, or also get leaflets from the Flockton Club*, that are being distributed to local businesses, explaining the bypass campaign. Also displayed, is the agenda for the meeting the steering group had (on Monday 26 February 2018) so people can see what we are discussing at the meetings. Orders for car stickers, at £2 each, can be placed at the bar. Please show your support by buying one (or two!).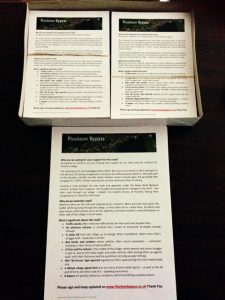 "144 small handouts done this morning 8:15-9:05. Towards Hudds. Probably caught between 20 & 25% of vehicles. Very favourable responses mainly and word seems to be spreading! 'Oh. Is that about the bypass? It certainly needs one.' was said several times. Quite a few who have already signed, too. About half a dozen 'no thanks'." – David R, 6 February 2018

Local Press & TV
Local newspapers and television news, are gradually being informed of the Flockton Bypass campaign and word is getting around.
*Flockton Club – [Old] Post Office in Flockton, Working Mens Club, 157 Barnsley Road, Flockton, Wakefield, West Yorkshire, WF4 4AA (Location map)